Ryziok – traditional dessert of Lasowiacy
Today I will present a recipe for a delicious yeast dough with a layer of rice cooked in milk – RYZIOK.
Ryziok is a regional dish of LASOWIACY – an ethnographic group living in northern Podkarpacie, with such urban centers as Tarnobrzeg, Stalowa Wola, Nisko, Rudnik na d Sanem, Leżajsk, Sokołów Małopolski, Kolbuszowa, Głogów Małopolski and Mielec.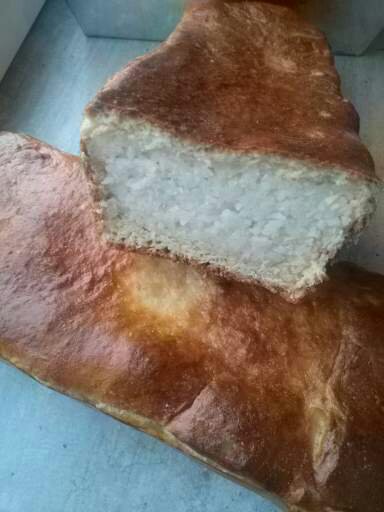 Ingredients for yeast dough:
2 cups of wheat flour
2/3 cup of milk
20 g of yeast
3 tablespoons of sugar
pinch of salt
2 eggs
2 tablespoons of butter
Rice filling:
2 cups of rice
1 liter of milk
80 g of sugar
2 tablespoons of butter
a pinch of salt
YEAST CAKE:
In a bowl, mix the flour with yeast, sugar and salt. Then add the milk, melted and slightly cooled butter and eggs. All ingredients are thoroughly mixed and kneaded to a homogeneous mass. Then leave it in a warm place to rise for about 1 hour, covering the dough with a cloth. RICE CONTRIBUTION: Boil the milk with a little salt. Rinse the rice under running water and pour it into the milk. Cook until soft, stirring constantly. Once the rice is cooked, drain it. Add sugar and butter, mix and put the covered pot aside so that the rice does not cool down.
Combining ingredients:
Two small baking dishes with dimensions of 8-18 cm came out of my ingredients. Line the cakes with baking paper. Put the dough on a dough sprinkled with flour and knead for a short time. Put a piece of dough aside (to cut the rectangle – top of the cake), roll out the rest and move it to the cake pan, lining the bottom and edges of the cake with the cake. Put warm rice inside and gently press it with a spoon so that there are no gaps. On top we put the rolled-out piece of dough that we previously put back and combine it with the dough from the mold. At the end, smear the top with a beaten egg. Put in a preheated oven. Bake for about 40 minutes in 180 * C. In case the top bakes too much, I recommend putting aluminum foil or baking paper on top.
The dough is moist and slightly sweet, and the consistency of the rice is firm.
I recommend serving with cranberry jam.