From sea to table
Greece has access to the sea from all sides, which means that you can taste many different types of fish and seafood prepared in various ways. In any region of Greece you will find tasty local dishes with a unique flavor.
So what can we catch in the fresh waters of the Greek Sea?
Fresh fish and seafood in the Aegean islands are always available and eaten everywhere, which makes it a paradise for those who like these specialties. Greeks catch tuna, perch, sardines, shrimp, clams and octopus the most.

Since so much is said about catching fish, what do we most often prepare of them?

In Greece, fish are prepared in all ways, they can be cooked as a soup base, pan-fried, oven-baked, grilled and pickled. In almost all Greek dishes, the head of the fish is not removed, according to the opinion of many Greeks, the meat from the area of ​​the head is the most delicious and tender. The most frequently prepared Greek dish is fish from the oven, due to the speed of its preparation, it can be sea bream, trout and salmon.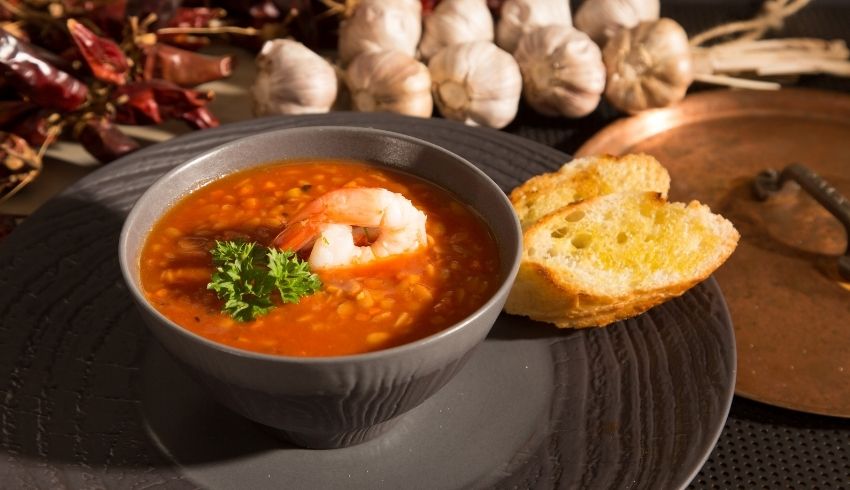 We can prepare fish in many ways, but the most popular are:
sardines (gópes)
red mullet (barbounia)
golded headed bream (tsipoura)
sea bass (lavraki)
sea bream (fangri)
The typical Greek fish is a stingray that can be tasted fried or boiled.

In Greece, seafood is increasingly appearing on the tables, so what is gaining so much popularity?

According to the Greeks, seafood is one of the tastiest dishes. In the Greek islands of Corfu, Rhodes and Crete, seafood is often served on the tables of local taverns. In Greece, octopus, squid, shrimp, lobster and Greek clams are popular.

If you've ever wondered what you can make with seafood, here's the answer.

If you are lovers of Mediterranean cuisine, today I have a simple suggestion for you - Garides saganaki, i.e. prawns baked in tomato sauce with feta. This is one of the most famous dishes of Greek cuisine. A thick tomato sauce with sunken shrimps, sprinkled with feta cheese and parsley, is served with fresh bread, which will perfectly remove the remains of the sauce. Although the dish is easy to make, you need to reserve some free time to prepare it. A large part of it will be devoted to cleaning the shrimp.