Greece Easter
When do Greeks celebrate Easter?
Greeks are Orthodox, so the Greek Passover usually falls after Catholic Easter, sometimes a week later, sometimes a month. Very rarely, these holidays are celebrated by all Christians at the same time. Easter in Greece in 2022 falls on April 22, the so-called Good Friday of the Orthodox Church, on April 24, the so-called Easter of the Orthodox Church and called Easter Monday on April 25.

So how is Easter celebrated in Greece? Greek Holy Week starts on Monday. The clergy give the faithful crosses woven from green palm branches. On Holy Wednesday, the blessing ceremony of Holy Oil is held in the temples. During this ceremony, the herb oregano is blessed by immersion in holy water. Holy Thursday is spent on painting eggs, mainly in red, which is to symbolize the blood of the Savior. Good Friday is a day of mourning – Greeks are forbidden to do hard work on this day. When Holy Saturday arrives, orchestras play music in the streets, ending the fasting period. Lighting the resurrection candle is the highlight of Holy Week. The priest passes the lit candle on, then the faithful kiss each other on the cheeks and greet them with the words "Christ is Risen!".
As a curiosity, the Greeks, during the celebration of Holy Week, carefully observe the strict fast that then applies. During the fast, Greek tables include calamari, taramasalate (a dip made of cod milk), and halva. On Holy Saturday, after the mass, the faithful eat lemon soup, also cooked with lamb or goat offal. For this, hard-boiled eggs and Christmas bread - tsoureki.


You're probably wondering what's on the Easter table? A typical Easter soup is magirica, which consists of mutton or goat offal with the addition of dill and onion. Another traditional dish is cookies called kulurakia.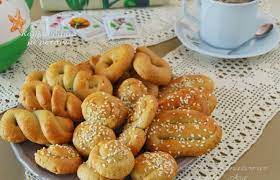 An interesting fact is that Easter in Greece will not take place without a roasted ram. As always, on Greek tables, white and red wine of its own production reigns supreme.

The real Greek feast begins on Easter Sunday. As you already know, baked mutton has been a traditional dish for many centuries. Some families also set up a hearth next to their homes, where they prepare kokoreci, or sheep's liver, which is seasoned with spices and baked in the intestines. Interestingly, it is a real delicacy for Greeks, eaten only during this holiday. The meat is supplemented with baked potatoes in herbs and huge amounts of lettuce.


Before the main course, starters such as choritaki, octopus, various types of olives and feta cheese popular in Greece are also served.

It is a tradition during Easter in Greece to dye Easter eggs, only in red, which symbolizes the emerging life. Egg-cracking is an Easter fun - two people tapping eggs against each other, and the one who does not beat the egg will be lucky all year round. Unlike Polish culture, they are unfamiliar with the habit of Śmingus-Dyngus.